If you live in Tacoma you know what people mean with they say "the mountain" or "the Sound" or "the waterfront," but don't be so hasty with that last one! The Ruston Way waterfront is a gem in the crown of the City of Destiny, but this week we're here to give a shout out to the other waterfront, the home of Titlow Beach, the iconic Narrows Bridges, and the Tacoma sunset. That's right. Old Town, Ruston Way, and Owen Beach are perfect places to watch the sun rise over the sound, but travel over to the west side to watch it go down. This post is all about the sunset side highlights, read on, then make some space to visit this spring and coming summer.
We've visited Titlow Park and the Titlow Beach Marine Preserve on this blog before, but you really can't talk about this side of the waterfront without giving the 75 acre park its due. At Titlow you'll find a lagoon, picnic areas, a playground and spray ground, tennis and basketball courts, the historic Titlow Lodge (once a hotel), as well as walking paths and the beach itself. Because its spring, I'd mostly like to tell you to go there RIGHT NOW. Go. Go before the white wild cherry blossoms on the path by the beach fade and fall. Well, now you know how we feel about cherry blossoms blooming on lichened covered branches over a saltwater beach. In case you miss this, put it on your calendar and go next year. In the meantime, enjoy our photos and dream.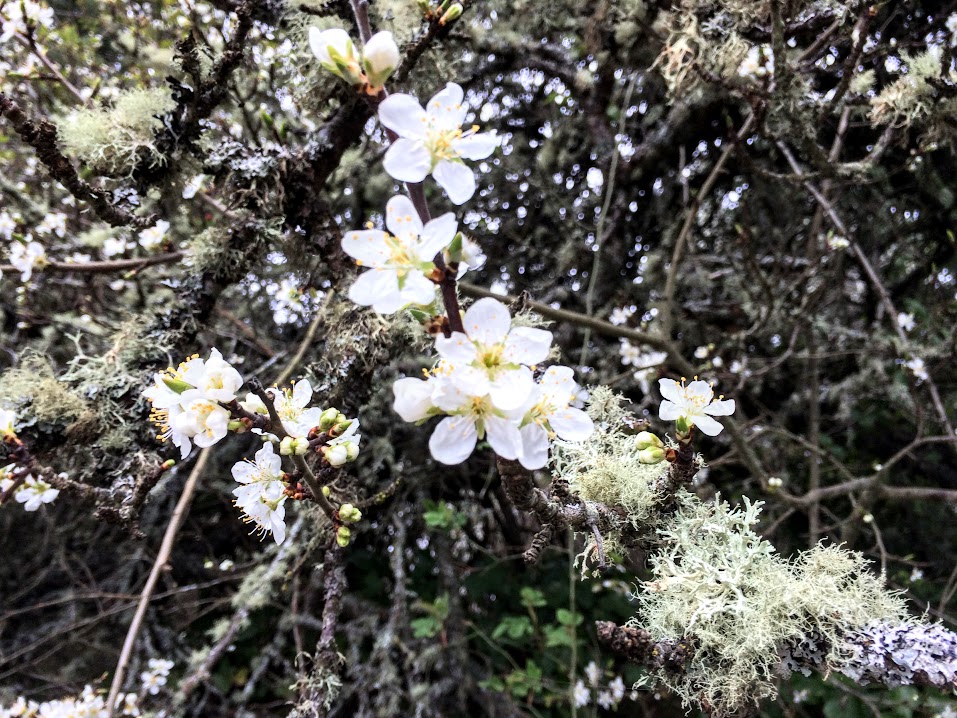 The Beach Tavern
8612 6th Ave
Sun, 12 pm - 12 am
M - Sat, 10 am - 2 am
Since you're at Titlow (and if you've really gotten into it, you may have walked through acres of trails and romped on the beach), you might as well cross the street to The Beach Tavern. There's probably a game on, the regulars are there, and the food is good, so take a seat on a red stool, or a booth, or near a window overlooking the park and nearby tracks. We've always had friendly service over the years and would like you to know that the oyster burger with fries is our favorite. Breaded oysters, lettuce, tomato, American cheese, and tartar sauce on the side. Don't mind if we do. If you have youngsters along on your excursion, or you just want to be even closer to the water, try Steamers Seafood Cafe. You'll find it where 6th Avenue dead-ends into the Sound.
Narrows Brewing
9007 S 19th St
Sun, 12 - 6 pm
M - Th, 4 - 9 pm
F & Sat, 12 - 11 pm
Narrows Brewing overlooks the Puget Sound with a view to the Narrows Bridges and is housed in the historic Mill Warehouse building with a 55-foot bar built from wood once part of the trestle bridge to nearby Day Island. Come in your boat and tie up at the Narrows Marina (look for the green areas where guests are welcome for 3 hours at a time between 11 am and 11 pm) or arrive by land; you can't miss it, just keep driving west on 19th until you nearly end up in the saltwater. With 14 brews rotating, and the go-ahead to bring food in to enjoy beside your beer, you're all set for a nice sit-down. Narrows Brewing recommends take-out from their neighbors, which brings us to...
Boathouse 19
9001 S 19th St
Sun, 11 am - 9 pm
M - Thur, 11 am - 10 pm
F & Sat, 11 am - 11 pm
Open since 2012, Boathouse 19 is part of the Lobster Shop Family of Restaurants. They also salvaged wood from that bygone bridge to Day Island for their bar, and the tables are made from Nalley Valley pickle barrels. Reduce, reuse, recycle, right? We've enjoyed some nice lunches here over the past few years and can't wait for sunny deck season! Sit in, sit out, watch boats, wait for the tide, let your thoughts and conversation get carried along in the rapid current of the Narrows, and dive into some salads, seafood, shakes, and burgers. Happy Hour is from 3-6 pm and 9 pm to close (in case you were wondering).
If you go, let us know. We'd love to bump into you at the shore, or clink a glass over on the West Side where the sun sets over our fair city.
We'll be back next week with more about life in and around Tacoma. It's a pretty good place to call home.