We love getting out of town for a day. Longer is great, of course, but there are plenty of places within reach for a day trip; it's just one more reason we feel so happy living in Tacoma. For us, an ideal day trip includes:
walking - parks, towns, and trails

good food

thrift shopping

neighborhoods to explore

a scenic drive

coffee shops & breweries

the dog
It's okay if a destination doesn't match every wish on the list, but good old Port Townsend, just an hour and a half drive from Tacoma, grants them all and more besides. That must be why we go back year after year after year and dream about going when we're too busy and then do go as soon as we can. Here's a guide to our best day in Port Townsend.
Before You Head Out: What to Bring
Comfortable shoes - pack rubber boots or some other back-up shoes for exploring

Blanket for the beach

Layers - if you live in the Pacific Northwest you don't need us to tell you this

Discover Pass - pick one up in Tacoma at Big 5 on 38th St, or in Port Townsend at Fort Worden near the parade grounds ($10/day, or $30/year)
Getting Started: Breakfast
The Oak Table Cafe, 3290 NW Mt Vintage Way, Silverdale, 7 am-3 pm

Head out in the morning and save room for breakfast. We recommend a stop at The Oak Table in Silverdale where all the servers are kind, the food is from scratch and special (European inspiration and American portions). "Eggs Benny" - Country Style with grated potato pancakes for one of us, then maybe a sweet dish like the crepes so we can share.
Chimacum Cafe, 9253 Rhody Dr, Chimacum, Sun-Thur 7 am-8 pm, Fri-Sat, 7 am-9 pm

Or, driver further on to Chimacum and eat at the Chimacum Cafe, you'll recognize it by the ultra charming neon rhododendron sign. This is your basic, friendly, no-frills, big breakfast place where the wallpaper and light fixtures are matching. Split the Everything Omelette.
Depending on where you ate and when you last had coffee, you might be ready for a coffee break, or just save this tip for later, but don't skip!. These are our two favorite coffee spots in Port Townsend:

1. Better Living Through Coffee, 100 Tyler St, 7 am-7 pm

From a seat at the window see the pebbles on the beach below and watch the otters and kelp floating by; that's good enough for me. Fair-trade organic coffee, organic baked goods, and the view make this a favorite.
2. Velocity, 431 Water St, 5:30 am-5 pm

Built into the Northwest Maritime Center at the very north end of town, this shop serves Olympia Coffee Roasters coffee, which means they serve delicious coffee. Lots of big windows that open up in summer look out over the maritime center's back patio, dock, beach, and Port Townsend Bay.
North of Town: Explore the Park
Fort Worden State Park, 200 Battery Way Discover Pass Required

We love this park! We've camped here, spent a night in one of the old houses, and rented an Airbnb just across the street. But most times we're just here for the day. Plan a couple of hours, maybe more if it's sunny; you might find yourself wading in the waves or snoozing on a quilt in the warm sand.
Beach: We drive all the way to the campground area near the beach and find a place to park. From there, we take a sandy trail through the dune grass, throw sticks for Dandie, look for beach glass, run around, and enjoy the view all the way from Mt. Baker to Mt. Rainier.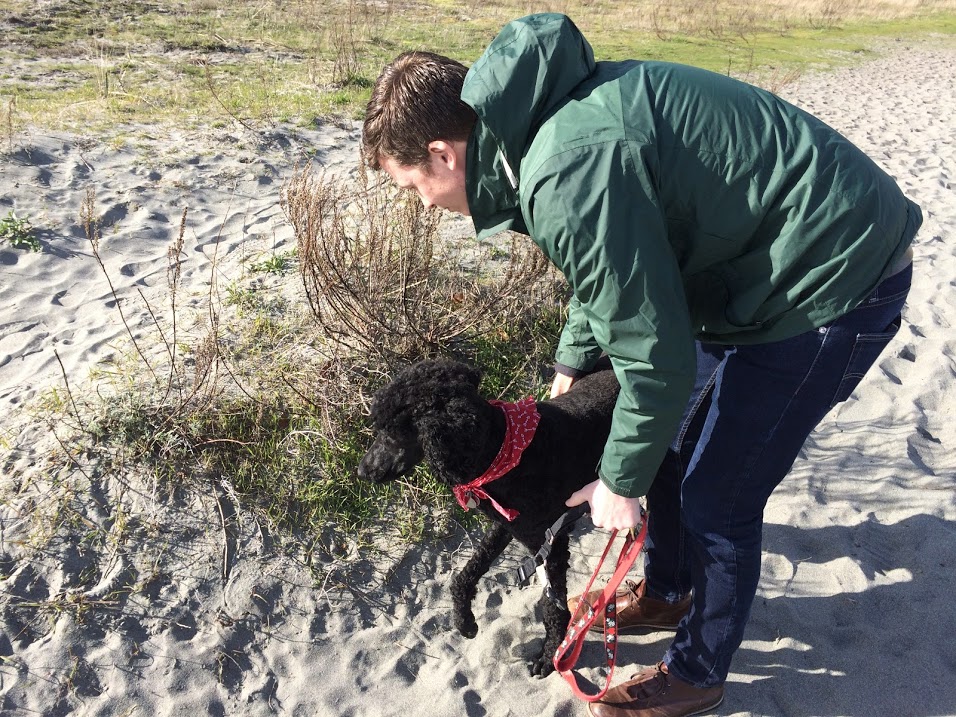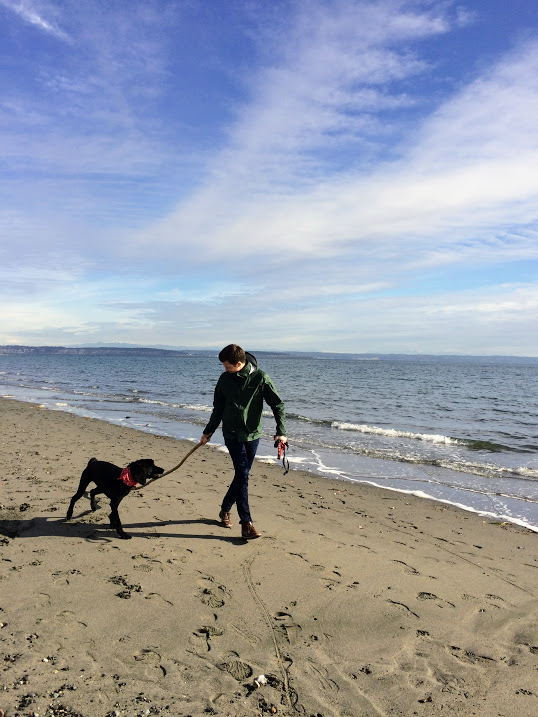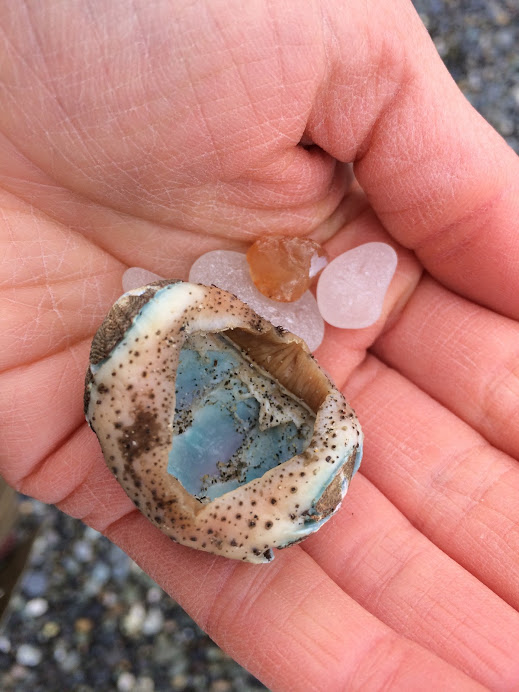 Battery Kinzie: Definitely go in here. Climb up the stairs and ladders, wander through the seriously dark and creepy and narrow hallways inside (this is where you might want your rubber boots or extra shoes). Shout and sing, cackle and clap in the extraordinarily echoey chambers. Forget you're an adult.
Trail: You'll find the trailhead in the campground. Head for the bathroom in the campground loop and from there, walk toward the tree line where you'll see a brown trail sign. Be ready to go uphill through the trees for a bit. This is a short hike with many rewards at the top. Once you're up, just explore. There are trails and a loop road, further batteries with their pitch-black chambers, odd tunnels, and stairways to climb. You'll also find expansive views, meadows, and Memory's Vault, a sculpture with poems on columns and stone thrones reminiscent of Narnia. Stop for a bit and read. On a weekday in the off season, we're nearly alone up here.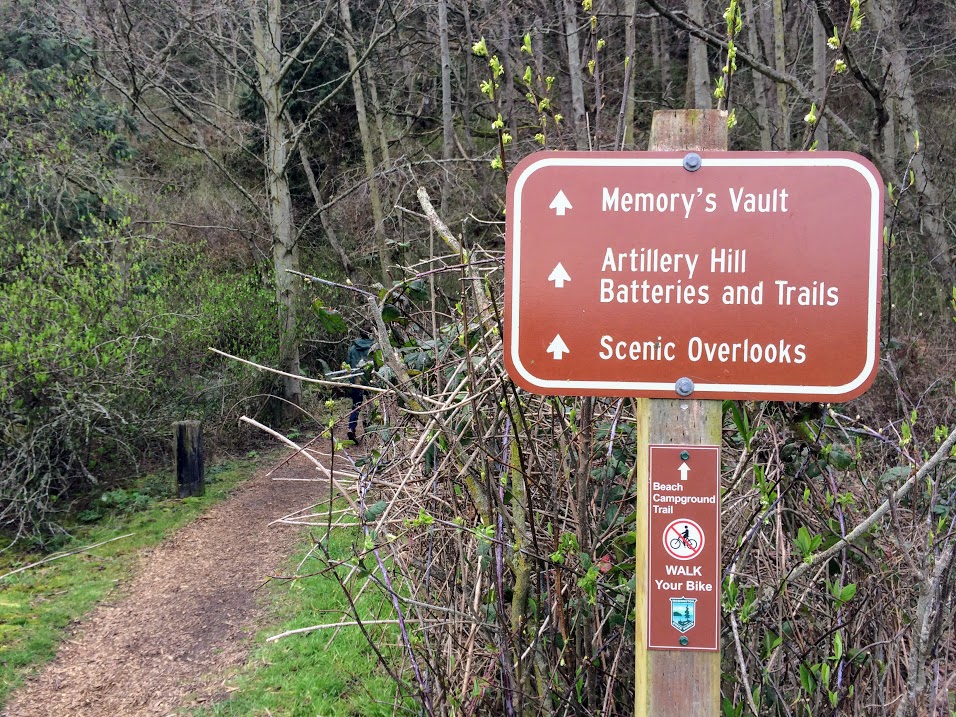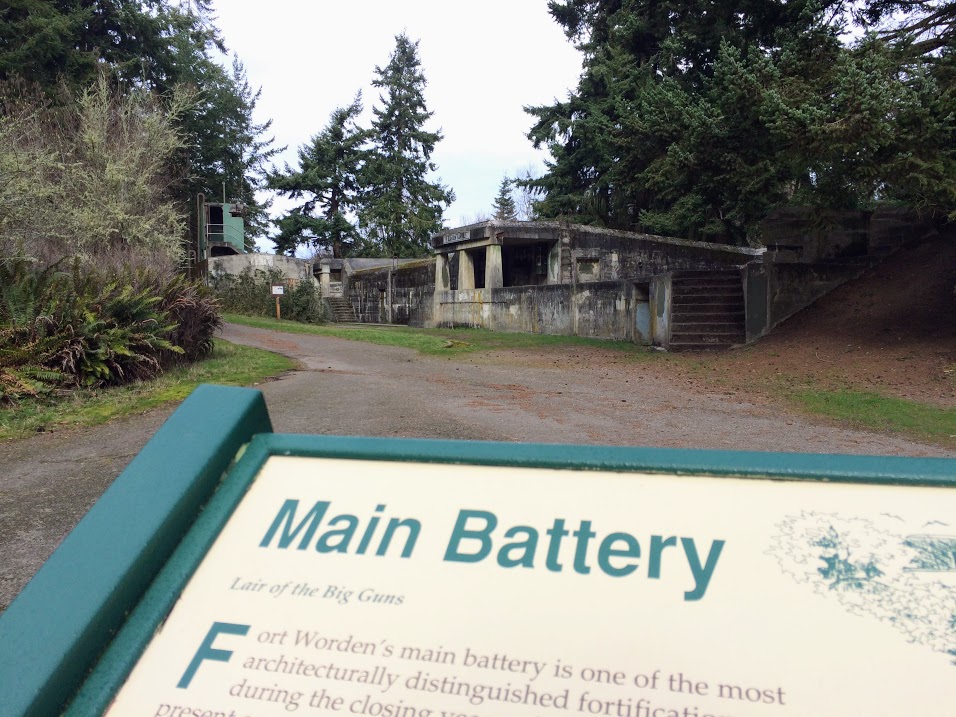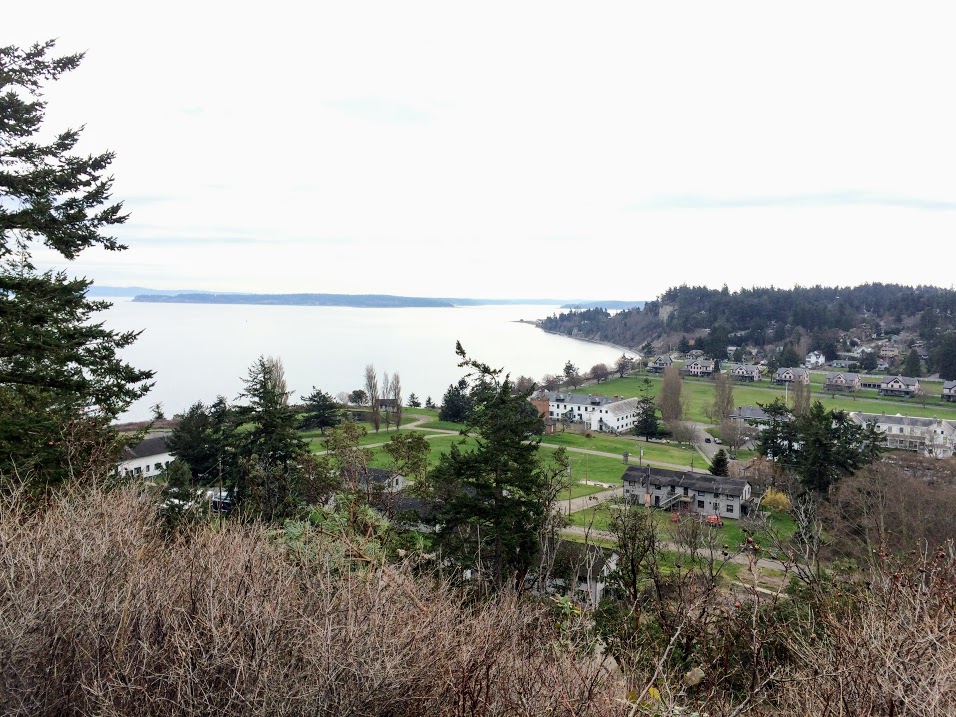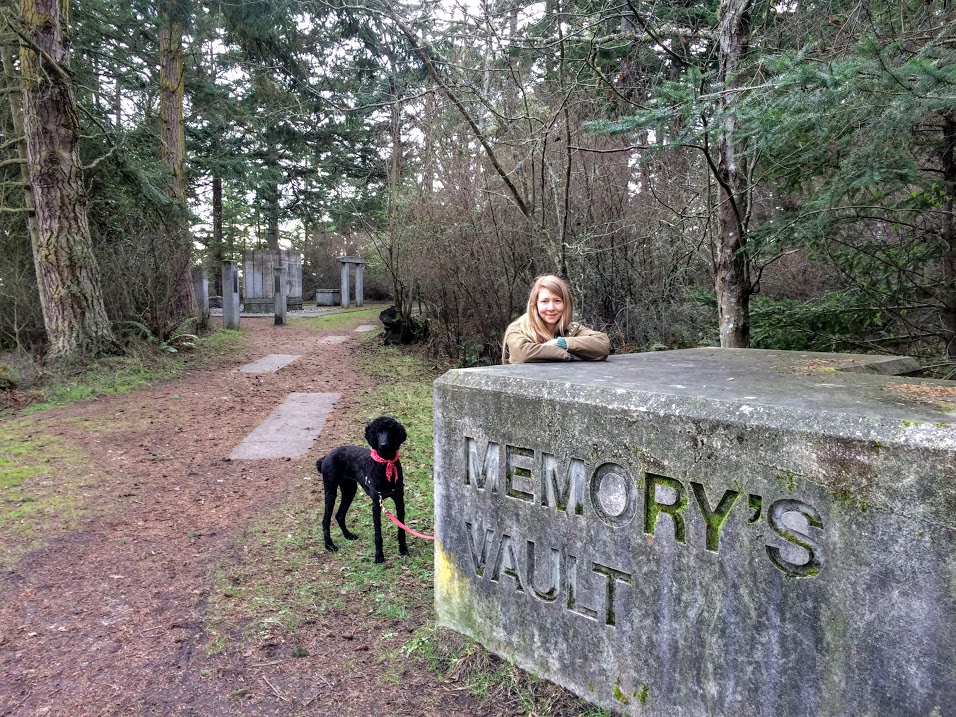 How about this: we'll give you some ideas of where to eat and drink and you can decide when. It could be before browsing shops, or after walking the neighborhood on the bluff filled with the Victorian homes of your dreams. Up to you.

Hanazono Asian Noodle, 225 Taylor St, closed Monday-Tuesday

This is a from-scratch, Japanese restaurant with tall front windows and mostly small tables. Be prepared to wait a bit during peak hours. The Tom-Yum Noodle Soup is spicy, tangy, delicious! Everything is nice to eat here.
Sirens, 823 Water St, opens daily at noon

Look for the sign hanging over the sidewalk, and then be prepared to go up a flight of stairs. In the summer find a seat on the deck overlooking the sound, or settle into one of the rooms in the dim interior where tables and chairs are tucked into nooks and crannies, this isn't a pub laid out on a grid. Often, we come here for a drink and an oyster shooter and just to enjoy the spot before heading on for more time outdoors or the rest of our meal.
The Banana Leaf, 609 Washington St, closed Wednesdays

Family-owned, friendly, and fresh, this bistro has lunch specials, good curries and soups, tasty noodle dishes, and again, nice people.

Blue Moose Cafe, 311 B Haines Pl (Boat Haven), Mon-Fri 6:30 am-2 pm, Sat-Sun 7:30 am-2 pm

Another good Port Townsend destination for boat lovers. The Blue Moose makes its home at the south end of town among the boatworks. This little, quirky cafe is friendly and serves good breakfast and lunch food. Chilaquiles!
Port Townsend Brewing Company, 330 10th St, 12-7 pm, Fridays until 9 pm

Since we're in the area (seriously, it's a 1 minute walk from the Blue Moose), may we suggest the Port Townsend Brewing Co. for a pint or a rest along with live tunes in the beer garden. Hang out in the tasting room on a rainy day, or get outdoors in summer. This is a sweet spot.

Other local favorite spots are the Silverwater Cafe (open since 1989) and the Fountain Cafe.
After your meal, get ready to stroll on the docks all over town, such as at the Point Hudson Marina. Or, head up the hill to gaze at houses full of character and charm.
On Foot: House-Seeing
You can park downtown and head up the steps by the fountain on Washington Street, or look for the public trail sign and take that path up. You could also drive up to the neighborhoods, just choose a spot to park and walk around. If you like looking at houses, you won't go wrong. The Victorians stand out in this town with their jeweled windows, carriage houses, widow's walks, turrets, and color schemes that enthralled my child-eyes, but now make me shake my head when I picture all the work it would take to keep these up. They're a labor of love and a treat for those of us who just get to walk by and enjoy.
About Town: Port Townsend Shops
Water Street and its side streets are lined with shops for kitchen goods, clothing, yarn, beads, along with art galleries, and a nice array of bookstores. Go where your fancy takes you. Speaking of fancy, here are a few places we suggest.

Fancy Feathers, 910 Water St, 10 am-5:30 pm

Head down the stairs for Fancy Feathers when you step into the shop from the sidewalk (the main floor is a different shop). This is a consignment shop with a lot of women's clothes and a nice, smaller men's section as well. Items are arranged by type as well as color, which I always find fun. Michael once found a new Pendleton shirt here, and friends always find something they love.
get-a-bles: gourmet & gifts to go, 810 Water St #1, 10 am-6 pm

Snacks, drinks, tableware, t-shirts, tote bags, tea towels, inventive children's toys. This is a nice shop.

Mt. Townsend Creamery, 338 Sherman St, closed Monday-Tuesday

Cheese! This shop is way up at the south end of town, you'll probably want to drive up there. Try a sample and buy a beautiful wedge or wheel. Go for Turophile Hour (cheese happy hour!) from 4-6 on Thursday & Friday for 25% off. Yes, please!
Goodwill, 602 Rainier St, open daily

Since you're already over in this part of town eating cheese, head over to the Port Townsend Goodwill. Gretchen once found and took home a very puffy teal down coat with giant dolman sleeves and bright pink lining (not tempting? who are you?).
More Fresh Air: Two Other Parks We Love
Not ready to head home? Neither are we. If you skipped coffee time, or just don't enjoy browsing shops, or you did all of that but still have energy, these are two other places we love in Port Townsend.

1. Chetzamoka Park, on Jackson between Garfield and Roosevelt, dawn to dusk

Gardens, gazebo, picnic shelter, swings for young and old, beach access, views of Admiralty Inlet, big trees, and wide grassy spaces. This is an old-fashioned, quiet, beloved city park.
2. North Beach Park, 588 Kuhn St, 6 am-10 pm

This is a spot you'll probably drive to as its about 3 miles from downtown. There's a nice stretch of beach to walk on, look for beach glass and stones made smooth by the surf. The park also offers trails through woods, along a pond, and through open grass. It's a nice place to get to know.
Head Home: It's Dark Out
Okay, you can go home now. There's so much more to do, eat, drink, so many paths unwandered, boats unseen, nearby cideries not yet visited. One day isn't enough for everything, but it's enough for one day; that's why Port Townsend is a perfect day trip. Go again and maybe we'll see you there slurping noodles, dashing around barefoot in the sand, or gazing out a window toward water with hot coffee in hand.
Usually our weekly blog post is about Tacoma, as you can see from our recent articles below. If you have questions about the city we call home, let us know!